There's a phrase about buses along the lines of 'you wait ages and then two or three come along at the same time.'
I don't know about you but it's definitely happened to me where I start to despair and then, shazam – two of the same bus appears and, whilst you grit your teeth, you also hop on and get going.
Well, hopping on and getting going has been my modus operandi for this past week.
Crikey.
In the same week, I've hosted a two-day Live Retreat in London for a group of VIP clients, had supper with friends over from Italy, went home for a couple of nights, had our hair 'done' and then spun about and went back to London for two further nights.
On Wednesday this week Snowy and I were invited to Buckingham Palace for a Garden Party and then Thursday, yesterday, I had lunch with a friend and went to an Exhibition together and then went on to The Chelsea Flower Show.  First time for me for all these events!
This isn't to impress you in any way, it's more to encourage you to hop on and get going when things line up too close but they are when they are and you want to be there.  AND you can build in a recovery period soon after…
One of the thing which has really supported me this week in all the logistics is this.
Organising by Stockpiling.
I had stock piles of clothes, accessories, work-related bits and pieces all in different places in our home and all sorted by event.
It sounds a little "What Kay? Really?!" but for me that really works.
Stockpiling is something I've done since my insurance broking days.  The papers for a meeting, the tickets, the Bios, slides all in a pile as I build them out.
Others look and wonder why I'm not tidier or appear more organised but – when I'm ready to go – boom, everything's tidied away and into a case and I'm gone.
In all those logistics  I didn't forget anything or have to emergency buy anything either.  (We had to bring passports and driving licences to go the the Garden Party).
I wonder how you plot, plan and prepare yourself to show up how you want to?
Do you have any secrets which always work for you?
The highlight of the week was the Buckingham Palace Garden Party.
Such a spectacle and an assault on the senses in so many ways (and I wore my wedding dress from 21 years ago!).
Now. I'm going to go quiet again. I've felt a bit like "Where's Wally" this last few days.
Well, this 'Where's Wally' is going under the radar for a while ie not be in the picture!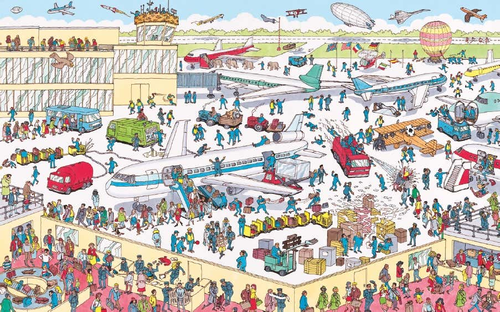 In other news…
=================
A few snaps from what was a wonderful week and – in truth – there were too many 'buses' coming along in the same week but, what can you do?!