t was SO obvious when she said it and even with all my years of experience helping women create and maintain personal boundaries, I missed it for myself! Heyho…
"Kay, you've just hosted a 2-day live retreat online and had a birthday celebration a few days later – no wonder you feel depleted!"
I'd explained that I felt a resistance this week to settling down to work on the sparkly website which will promote and enrol for my one-day event in September. It takes a lot of mental energy, it's fun to do AND you need a good chunk of time and plenty of good energy – good vibrations, if you will.

Why didn't I recognise that it wasn't that I'm resisting doing the task, it's that I'm not feeling energetic enough to make it the experience I want it to be. My body and brain were not playing!
The question to you then – and kick up the backside reminder to me from me – is this. "When you've achieved, delivered, created something BIG, how much recovery time do you need?"
We tend to run at things, deliver it and then… on to the next task or 'ToDo' thing on our list.
I'd built in a couple of quiet days this week but things crept in which I said "Yes" to. Mistake.
My birthday bonanza day was wonder-full with friends, surprises, family visits, London trip, shops etc – all energy, all good and yet, all pulling on the energy bank.
Being kinder to myself should have been on my own 'ToDo' list .
Can you relate to this ? Are you someone who gets to the finish line and then thinks "Right, now what?" or "OK, what next?" or are you kinderto yourself?
Recovery time is a real thing. For athletes it's a critical part of the build up – having the recovery time included for after the event. It supports both physiological and psychological recovery to have this break.
So, that's all from me this week. I'm signing off early but with a grateful heart and will be continuing celebrating my birthday with my sister Claire, who I've not seen since July 2020. Champagne may be involved….

 >>> Save The Date!  Friday 17th September <<< 
A One-Day Live Gathering, on line, hosted by me and including many special guests.
ALL focussed on you and IF or how you're taking care of YOURSELF both at WORK AND AT HOME.. More details soon…
Personal Practices; Potions & Personal Power Moves << all part of our discussions together on Friday 17th September..
Website will be ready shortly…after my recovery break!
Douglas Puppyhound Developments
==============================
Saying hello to his plucky friend Dolly the Chihuahua at Puppyschool, Douglas is very gentle.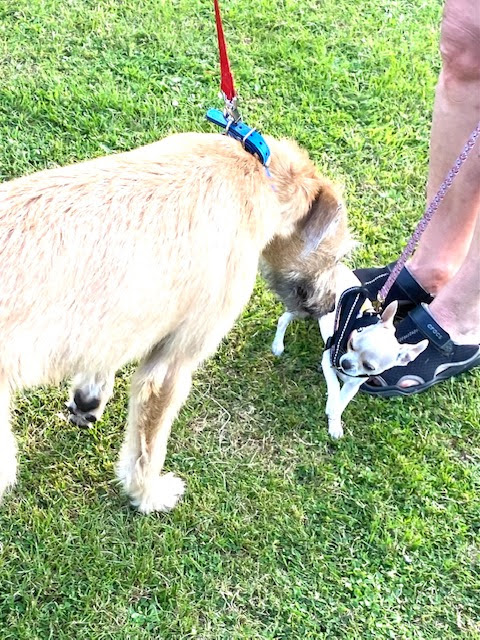 Hanging out with his housemate Jeffrey Hound, the two of them hung on to the figure of 8 rope for some time…