When we decided to go to Manchester for an art exhibition this week, it would have been so easy to have changed our mind and here are just a few of the reasons.
The 500 mile round trip
Fuel and an overnight stay in a hotel
2-days from our 'staycation' break
Hounds into their Bed & Breakfast and associated ££s
3 hours each way in the car etc
When you list out the 'considerations' like I have above, it's so easy to think "You know what, I'll give it a miss and look at it on YouTube" but then we'd have missed out on SO much.
We went.

We loved the exhibition and the traffic-related part of the trip wasn't as important as the joy of seeing pieces of art we'd seen being made by 'people like us'.
Grayson Perry 's Art Club started on TV during the most fierce part of the first lockdown. People were asked to send in their depictions/interpretations of themes like:
The view from my window
Food
Relationships
Homelife
It blew us away and a couple of times we shed a tear at people's stories and why they'd chosen what they had – both during the series on the TV and then when we saw the exhibits this week IRL (in real life as it's seeming to be known now).
These 85 little figures were made by a young man with severe autism but who would express himself and his fun side through his sculptures. The detail was just breathtaking and his parents so proud of him.

My point is this and you'll have examples of this too.
There are always forks in the road where we have to make a decision to do – or not to do.
To go, or not to go.
To show up or stay home.
Neither are right or wrong but there are consequences
Weighing up 'fork-in-the-road moments, I often ask myself "what will your future self say to you about this Kay?" and that's where my decision comes.
I would have said "take the opportunity and go – you kept saying you wanted to so just do it. Go".
Maybe use this useful little question yourself when you come up to your next choice-point.
As we gently return to our work-life next week, Snowy & I have had one of the most brilliant holidays we've had in years. 3.5 weeks out-of-the-office, mainly home-based which meant a chance to do things we wouldn't have done or made the time for. But we did.
Another encouragement for you .  Take some time to potter about.  Decompress.  Unplug.  
Now then! If you struggle with establishing OR re-establishing boundaries and saying "NO" at work OR to those who may take advantage of you at home too – then I have something for you.  
A brand NEW Live Training all designed about boundaries. Yourboundaries.
Say NO without upsetting yourself, others (or feeling guilty or mean).
Let me show you how. Here's where to Register yourself . Thursday 19th August at 7.5pm for 75 minutes. SO much information and exact words and phrases for you .


>>> AND Save Another Date! Friday 17th September <<<
A One-Day LIVE Online Gathering hosted by me and including many special guests.
Personal Practices; Potions & Personal Power Moves designed to put YOU at the centre of your life for your benefit AND for others' << all part of our discussions together on Friday 17th September..
Douglas Puppyhound & Other Developments
====================================
Still on our Staycation we went to our local restaurant who have a marquee in the garden and separate Cabanas to eat in.  Simple idea and really effective.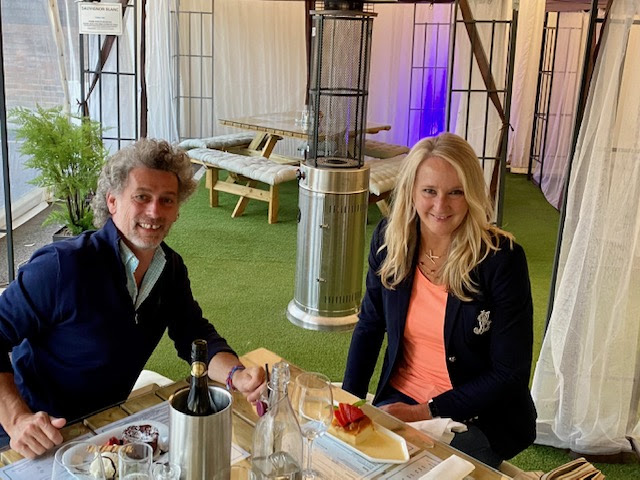 The hounds in their Bed & Breakfast whilst we went to Manchester…