The more virtually and online we work these days, the more precious it is when we're able to come together, LIVE and in person.
There's so much we're able to do now from our offices, on the phone, online, by video and yet, there's nothing like seeing the whites of each other's eyes, is there?
The energy which comes from being 'live' with other women who, just like you, want to step up and step out into a BIGGER version of themselves. I always say and truly believe "You teach as you share". Encouraging women at my Events to use their own story-telling, live examples and practical tips to bring to life even more what I'm sharing and teaching, it adds further connection, depth and certainty. I've learned how to create spaces in which professional women feel safe, heard and understood. That's where real, inspired actions and decisions takes place.
---

Show Up; Sparkle and Be Heard LIVE
Hosting a 3-day Live Event here in London each year, women attend from many industries – for example: Banking, Insurance, Law, Healthcare, IT, Hospitality, Accountancy – all to learn from and with other professional women like themselves.
So much comes up when you give yourself the gift of a little time to think and consider what it is you want – both at work and how it links into your personal life.
I carefully design the whole Event to encourage you to discover and own your personal value and power so you can really step up at work. Not only do we focus on your unique skills and strengths, we focus on income-boosting language, mindsets, personal style and personal energy. All taking place in a special, feminine and truly sparkly space.
Join us LIVE in 2017 on October 5, 6, 7 live in London. This is a bespoke Event for Corporate Women (which isn't delivered in a 'corporate' style, on purpose)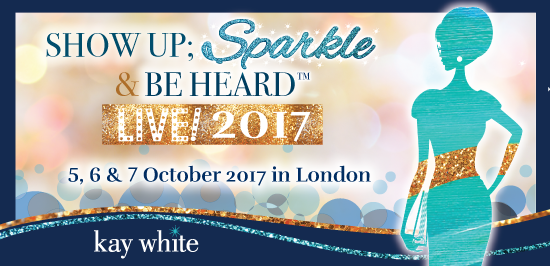 Information & Registration Here



"There's nothing like this experience this side of the Atlantic."

"Kay attracts amazing women from all over the world and while I knew it would be a great event, the amazing details Kay shares and shows you about who you are and how valuable you are just blew me away. I've learned what was holding me back and how to truly break through that.

—DANIELLA RUBINOVITZ, DANIELLARUBINOVITZ.COM, THE NETHERLANDS



"I wanted to learn how to approach a profession known for 'Dark Suits' and build a reputation on being 'sparkly' and a bit different, whilst still gaining respect."

"I was moving jobs and thought it the Event was a good opportunity to have some 'me time' to think about how I wanted to shape my new role and I went with an open mind.

I learnt so much! Everything from the importance of 'driving your own bus' in your career to how to justify your reassuringly expensive charges – and even how to comfortably pose for photos! It was amazing to speak to so many interesting and inspiring women and everyone instantly felt like old friends.

You'll be amazed by how much you'll learn, how much confidence it will give you to go for what you want in your career – and just how much fun the Show Up; Sparkle & Be Heard Event is!"

—Hannah P. UK Family Lawyer and Live Event participant
---
Miss Representation – Private Screening
In addition to the annual 3-day Live Event in March, I host smaller events throughout the year.
In January 2014 I hosted a private screening of the provocative, confronting film "Miss Representation".
I chose to host the Event in a private cinema in a Central London hotel and facilitated the Discussion Panel which included a representative of the benefitting charity United Nations Women UK.
The Panel also included a representative from a global bank and Vanessa Vallely, founder of women's networking hub WeAreTheCity.
Over 100 women and men joined me to watch the specially-licensed US film Miss Representation and the Event was Sold Out within a week of opening the doors.
I'm currently in discussion with The Representation Project in the US to be a UK Ambassador for the Charity and host similar screenings and panel discussions to spread the word more widely.
The message of Miss Representation is simply this.



PATRICIA SELLERS, FORTUNE/CNN MONEY

OCT 11, 2013

"The media doesn't help women feel okay about power — a point that Jennifer Siebel Newsom nails in a new documentary called Miss Representation."

—Patricia Sellers



"As an organization, The Representation Project remains true to the message of Miss Representation that limiting stereotypes harm all of us and that women deserve a seat at the table."

—JENNIFER SIEBEL NEWSOM
As I always say "How you're perceived is how you're received".



"I have a daughter and I was interested in how women are portrayed in the media and how it might affect the way people think about women. I was surprised at the extent of negativity against high achieving women;
 The extent to which a self - fulfilling prophecy of negative images and feelings against women is taken on by women themselves and from a very young age so that they doubt and limit themselves. Thank you Kay for bringing this to my attention and I enjoyed the women who attended and the Panel. The venue was brilliant and your team were very helpful and welcoming."

—HILARY MALCOLM, Legal Team, UK High Street BANK, London



"It was a great opportunity to get to know other women who question our position and image in life. Seeing Miss Representation reinforced my conviction that what the prevailing zeitgeist would have us believe about the role of females in society is nothing other than a futile attempt to drive women towards a perpetual state of self-loathing. The team and organisation were outstanding and we could not have asked for a better host. I felt the discussion was both thought-provoking and inspiring and would happily take part in a follow up. We need a platform for an open discussion amongst women and an opportunity to understand that we can create one."

—OLGA B. HEDGE FUND TRADER, LONDON
---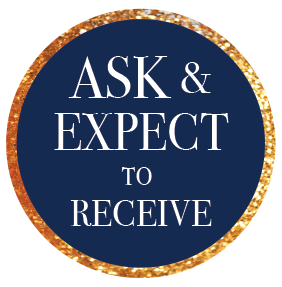 Live Half-Day Event in London
Why don't you just ASK?

In October 2014, I invited a group of VIP clients and their guests to join me for a half-day together on a static boat on The Thames!
As well as digging in together on how to ask for what you want in a way which makes it easy to say "Yes" to you, we also took the opportunity to celebrate a few of their achievements. Promotions, pay reviews, opportunities, new roles, a book release. So many developments to celebrate.
Here's the thing I've learned. When you step up and put your stake in the ground that you want things to be different, that you want more – well, you put yourself on a collision course with opportunity. We had an intimate group of 35 women, strategy, brainstorming, music, refreshments, glitter and great conversation.
Oh, and we raised money for UN Women UK, the charity I support.
---



HERE'S WHAT JUST A FEW OF THE CAREER WOMEN WHO JOINED ME LIVE SHARED:

"I learned the importance of structuring your ask - from the day-to-day requests, to the big ticket asks - and knowing if you get a "no" that doesn't have to thwart your progress in getting what you want."



"The model will be useful for all types of situations. It was useful being able to think about and articulate what you might need help with and then consider how you ask."



"The practical nature of the advice and tools to use. Very often business performance advice doesn't make it from the page into practice. But Kay articulated and demonstrated clear understandable techniques that build confidence but also allow you to think further about getting a yes answer. As someone who does not usually attend this type of session it was comforting to find other women facing often similar situations."



"Asking and expecting to receive is not a self centred position. Have had a number of opportunities to ask for outcomes / changes at work this week and almost without connecting it my position was this is what I need how can you make it happen with me and for me - bingo!"



"The model Kay shared is extremely useful and has many applications, I have some ideas in mind to put it into practice."



"The model was really good and got me thinking about how I ask for things, both business and personal."