Whilst a lot of my work with ambitious women involves my personal, in-person input not all of it does! I created a popular product 'Stop Being Ignored' and wrote my book The A to Z of Being Understood so I can immediately help you, wherever you are in the world and whatever time of day or timezone you're in. I can help you whilst I'm asleep and you can use and re-use what I share with you, whenever you want to. Win/win for us both.Listen to carefully-crafted audio with strategies and steps to show you how to communicate more effectively and persuasively. Read transcripts of the audios and lift the exact pieces you need and you'll also find Summary Sheets to remind you, day-to-day.
There are also 2 eBooks too to help you and these can also be downloaded straight to your computer and you can use them immediately.
Save time and precious energy as you communicate and get to "Yes" and get going, straight away.
---
Stop Being Ignored
Fully-downloadable and straightforward, step-by-step guides to show you how to:
Send emails to connect and assertively get your point across – and get you the response you want
Speak up in meetings with confidence and certainty so you're heard
Leave voicemails which compel people to get back to you
Invest in Stop Being Ignored and get on with your business.
3 simple, easy-to-follow packages ready for you to download and use straight away. Right now.



"The emailing secrets are amazing. I find it so much easier to write my emails now following Kay's 7 steps and my emails flow better, people respond quickly AND often the response is even more positive than even I'm hoping for!

I rephrase and reposition things and I follow the 7 RESPOND steps. I consciously appreciate people more in my messages and the trick about layout is just so helpful. Where I used to sit and wonder how to start and what to say, NOW I get prompt responses and most people say "yes" and support what I want so much more easily than they used to. I shared these secrets with a colleague and she said "I knew something was different – wow, can I use them too?""

—SUSANNA D, PUBLIC ORGANISATION, UK
---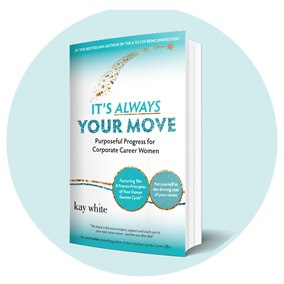 It's Always Your Move
Your career is like a bus.
A big red London bus if you will. You can either be up at the front in the driver's seat with the responsibility for the controls and direction it takes, or you can be a passenger. Most of the time it's up to you to drive your own career bus.
Why should anyone else be more interested and invested in your own career success, your earnings and your potential than you? They're not.
My new book It's Always Your Move is designed to give you clear guidance, proof and inspiration with many real-life stories, strategies and steps for you to take to boost your income, options and self-confidence and to guide you to your next move, and the one after that.
---
The A to Z of Being Understood
Make Your Voice Heard and Your Conversations Count
For years I'd been asked by clients, friends, colleagues "When are you going to write this stuff down?". Well I have. You can read more about the book here and it's available on Kindle with an Audiobook due shortly. It's a place to start and is packed with strategies, steps and stories to inspire you to make your voice heard, to be more considered and tactical as you ask for what you want.
When I speak or facilitate inside companies, a copy of my book is often sent to each participant in advance. It's designed so you can pick it up anywhere on any day and take something away from it to use. As I believe and as I wrote in my book "Travel is more than just A to Z. Every part of the journey is connected." Or, as Moliere, the French playwright and actor, said "If you make yourself understood, you're always speaking well."



"I love this book! In practical, straight-forward terms White teaches you how to communicate like a pro. Every page is filled with a tid-bit of information you will want to burn into your memory."

—LOIS P. FRANKEL, PH.D., BESTSELLING AUTHOR OF NICE GIRLS DON'T GET THE CORNER OFFICE AND NICE GIRLS JUST DON'T GET IT
---
Power Up; Speak Up; Be Heard:
Say What Needs to Be Said; Be Confident and Clear. It's All About Being Heard.
We both know you've got valuable points to make, to your business; to your clients; to your colleagues – and – of course, to your bottom line. Most people confuse 'talking' with 'communicating' – they're very different.
If you can't get your thoughts and ideas across in a clear, succinct and convincing way to others, how can you expect to get ahead – in your job, your business or your personal life?
To do that, we both know you need attract and keep other people's attention. Then, you need to make yourself heard. Well, I've got good news for you!
Already downloaded more than 8,000 times, this easy-to-use eBook will help you straight away.
More Info



"What Kay shares is almost Jedi!

I get more of what I want first time around from my team now AND when I want it! Kay inspires me to use new ways of communicating and they really work.

As well as being creative and fun, she really knows her stuff and she's become my secret power supply – what Kay shares is almost Jedi — May the force be with you too – it's certainly with me now."

—VICTORIA, SENIOR TEAM LEADER, UK PUBLIC SECTOR ORG.
---
Ready, Get Jet Set™
After making 16 transatlantic flights in under 24 months, I know there's a way to 'do' business travel, a way to prepare yourself to maximise and really enjoy the experience. And, there's a way to make it easy!
I wrote Ready, Get Jet Set™ for you. If you're a businesswoman and you regularly travel abroad then this is for you. Really, it's for you because it's written with women on the move in mind, to make it easy for you to prepare yourself, pack what you need, enjoy the flight and the ride. I've also put together an exact step-by-step guide of how I sleep like a baby on flights – oh, and – how I avoid Jetlag. It's true, I really do!
It comes with a handy downloadable Packing Checklist which you can follow from the moment you get your suitcase out, to when you unpack after you've returned home.
Plan, Prepare and Pack for a Comfortable Trip & Flight from the word 'Go'
Experience the Ride In Sync (& In Style) from home to hotel and home again
Sleep Well & Rest Well During & After your Trip so you feel fresh and rested
SLEEP system to follow to avoid JetLag so no pacing at night and slumping in the day
Handy 'Ready, Get Jet Set' Flight Plan — downloadable checklist — let me do the planning and thinking for you



"As an experienced traveller, I can tell you there's so much to think about to prepare, look and feel great and be on the ball while on a business trip. Kay's eBook - Ready, Get Jet Set - is a handy and easy-to-use checklist for new business travellers. She's even covered the small but important things like creature comforts, as well as re-entry planning and how to look after yourself whilst away."

—SELINA LEONG - WW CORPORATE BIZ TRANSFORMATION - LENOVO GROUP



"Kay White has designed this eBook to help make sure you prep properly for long-haul business trips. Her handy Checklist covers the basics of everything you need before and during your trip, from packing to handling timezone travelling to syncing with your destination. If you need help to "show up and sparkle", let Kay do the thinking for you!"

—HINA WADHWA - DIRECTOR OF EXECUTIVE EDUCATION PRODUCTS - QS LTD