The lessons are everywhere. Just notice.
Dear Bolly may have passed on 3 years ago this month and it may sound whimsical or indulgent to share with you career success traits which I've learned from our hound but, I am. On a number of levels, I realise how many lessons we've learned having been owned by a dog for over 16 years and also realise what novices we were when we first rescued Bolly (or did he rescue us?) in 2002.
You can see on the day we took him into our home how we all had fewer grey hairs and laughter lines but what a lot of life we would live together.
Lurchers are intensively fit and eager creatures. They're fast and yet they love nothing more than lazing about after a long walk. What came to me is how they operate on so many levels which have similarity in being successful in your career. At the same time, these traits map into our personal lives too. Success in one without success in the other is a life half lived, in my view.
Let me show you the 7 success traits I learned from Bolly – and all the other hounds following in his paws – and how they map across into your career:
1. It's a marathon not a sprint. After intense periods of exercise and activity, take time to rest. Give yourself a break. Don't just bounce on to the next task or list. Enjoy the satisfaction and reflection of what you've achieved or done and drop a gear for a while. Find a sofa.
2. Notice what you notice. Even though we go to the same park most days, as a hound there's a curiosity and delight in being there each day. Never oh 'here we go again' which we can consider being 'another day at the office'. A hound is always 'Yay, we're here. What's going on I can explore?' It's easy to become cynical with a sense of having seen it all before. You haven't. The landscape's always changing. Are you noticing what's going on and moving with the times?
3. Have half and ear and eye open. Always. It's easy to assume everything's as it seems. A hound has always got half an ear cocked. We can become complacent and assume all's well and as it should be. In your career you need to keep an eye on the competition, your colleagues, the market and be part of the conversation rather than closed off. It's where opportunity and career agility is to be found.
4. Live in the moment more. Seeing the joy from a hound when we come back into a room having only been out for a moment, when the lead comes out or we arrive at a new place is a great reminder of how easy it is for us to be focussing elsewhere and miss the moments happening right now. Being more present at work and at home as your colleagues and family share things with you is so key to connecting. Giving someone the gift of your presence is often hard with so many gizmos available to distract us. We tend to live in the tomorrow rather than the now and we miss so much as a result.
5. Have adventures but know your way home. Going off and chasing a squirrel isn't necessarily what I mean but as a hound, that's often what they do. In our careers, playing by the rules, always walking the path and saying the 'right' things isn't where adventure and entrepreneurship is found. I've learned by pushing boundaries – your own and other people's – you grow and expand and find more opportunity. Always, however, know where home is. Where your bread's buttered. Where you're loved.
6. Read energy, not only the words. As a hound, you don't really understand words, they're sounds which is why you can read your shopping list to a hound in a loving, fun voice and they get all excited. At work – and at home – it's easy to miss what's going on because you don't pay attention to the energy people have as they speak. We're often caught up in words and miss the message of a person's energy, their body language, their handshake, eye contact. Hounds don't. They watch you like a hawk and read your energy like a book. At work you can ask yourself "what's this person's energy telling me which they're not saying?" and clues will be there for you to notice.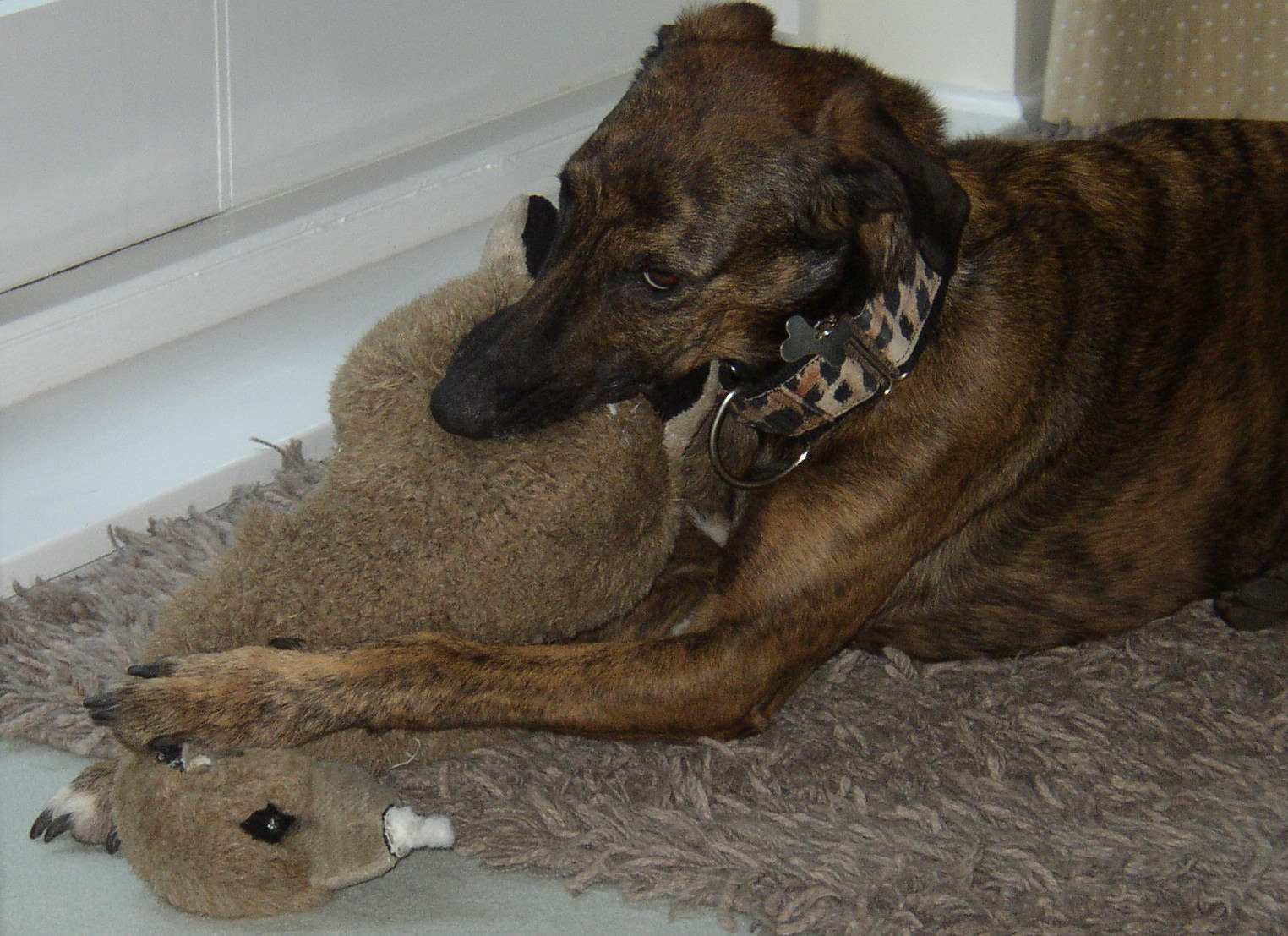 7. Remain curious and playful. Being up for things, being curious and sometimes silly is both infectious and good for the soul. Yours and the souls of those around you. Asking about people, what's going on with them, how something's working, what you can do to help – curiosity is a natural state of learning and so is having fun. Bolly was still playing with his trusty old Meerkat toys and chasing a stick right up to the end of his life. We often forget to be playful and take ourselves far too seriously. You know I don't mean to be the court jester at work but to loosen up, laugh at yourself, play – and not just to win, just to play.
So, what I realise as I finish writing this is how useful lessons and analogies are everywhere for us to notice. In this case, using the words of a well-known UK advert "Be More Dog" is my message, both to myself and to you.